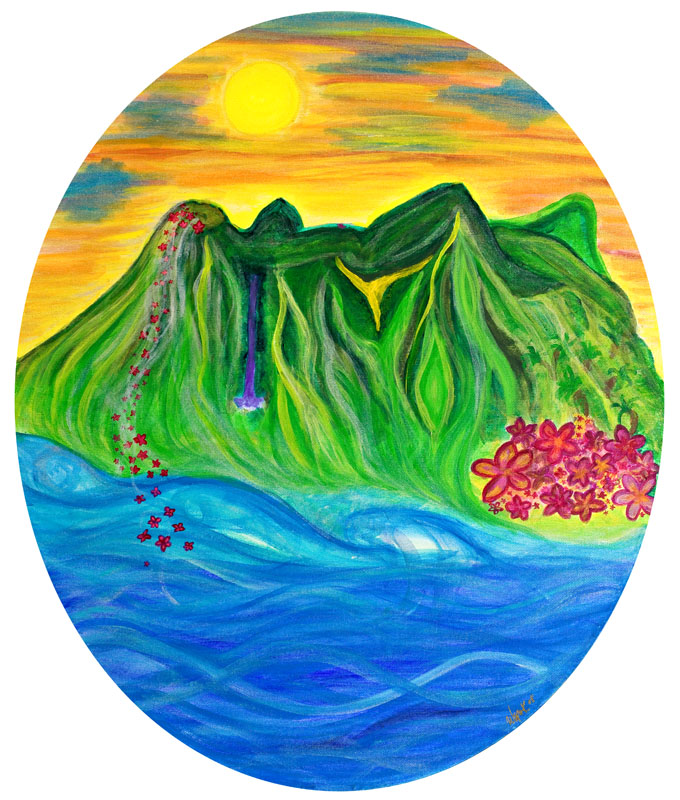 Kaui Goddess is part of the Goddesses and Fairies series.
I flew this canvas with my paints over to Kawai.  This was my first time to this island. I traveled with my dear friend Heather and her 1 year old daughter Angelina.  The moment we landed and walked off the plane, I felt the inner presence of the feminine in the most delicate essence I have ever encountered. The land in lush green, the warm winds of amazing scent…the island absorbed me. As I painted I felt, I was one with the goddess.  The lush green mountain melted into the dreamy shore. The truth of the sacred loving goddess filled my heart and flowed into every brush stroke on the canvas before my eyes.
The painting is acrylic on canvas, 20 inch by 24 inch oval.
The original painting is for sale: $3,000.
Prints are available all sizes.
prints available up to original size
mini collector addition prints
limited edition giclee prints, paper prints
paint-over-giclee prints available
Please email me for more information.