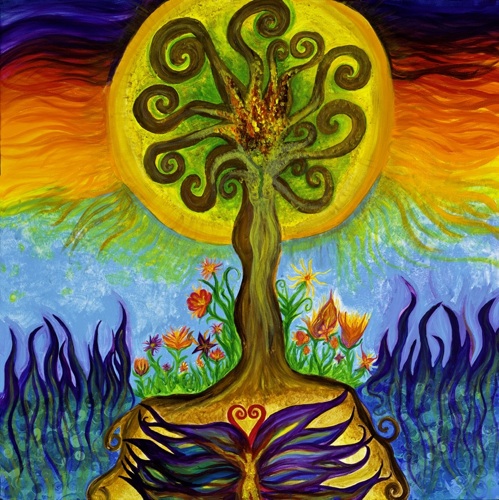 Soul Alignment was painted in 2007, part of the Phoenix Rising series, painted after Wisper's near death experience.
The painting is acrylic on canvas, 36 inches by 36 inches.
Soul Alignment started with the color purple, rich and vibrant. "The feeling of rightness will lead me," the voice whispered…
The experience of painting Soul Alignment was like meeting my soul for the first time!! I'd heard the voice through my near death experience in the river. "This is what it is like to drown," is what my soul said.  Looking back now, I realized that my soul wanted me have this experience so I would know the difference between body and soul. To know that soul lives on past the life of the body.
This painting is about aligning the human essence with with the true soul essence. I experienced still being alive without my body. My soul lived on past being human, and my body is here to tell the story through expressive paintings.
The original is in private collection, Mt Shasta California.
Sighed archival prints on canvas and high quality paper are available in all sizes.
Please email me for more information.