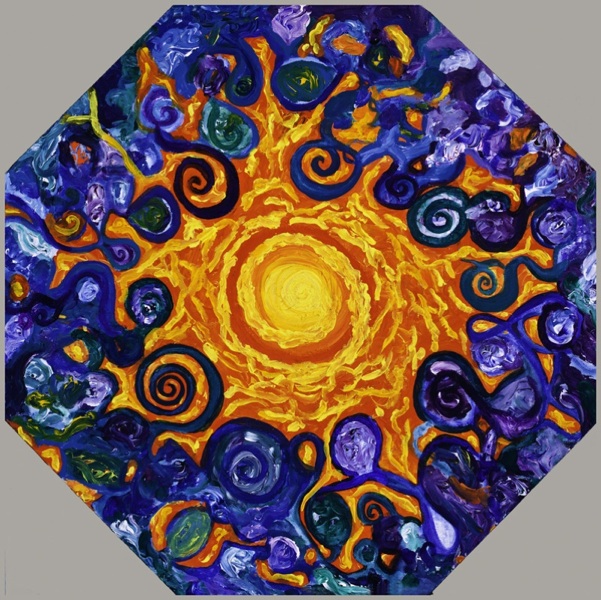 The Center of All Beings was created in 2001.
This painting is acrylic on canvas, 31 inches by 31 inches.
The Center of All Beings was the very first canvas I painted. I was in the last quarter of my junior year at Aptos High School.  I made the wood frame and stretched the canvas myself. Little did I know that an octagon was the hardest shape to make. To this day it's the only one I have ever created.
I began painting in art class, starting with the color purple and making the swirls inward around the outside.  Two days later an amazing experience happened. I walked on the main quad, where there were hundreds of kids, and everyone turned into oval shaped balls of light. All judgement disappeared. We are all one. We are all made of the same thing on the inside. Wow, that is amazing!
I felt a wholeness inside that I had never felt before.  I continued on to my art class, and after I finished the outer edges of the painting, I felt the need to bring it home.  I took it straight to my bedroom, leaning the canvas up against my bed. I felt the time was right to continue painting, so closing my bedroom door, I turned on classical music and began in the very center with bright yellow.
After a few brush strokes I was feeling claustrophobic, so I took off my clothes. Now, painting naked, I felt free. As the energy from above began to flow through the center of my chest, I began again, breathing deeply with each brush stroke, allowing the light to flow through me. The swirl began to move around and around with thick layers of paint, bringing this painting to life.