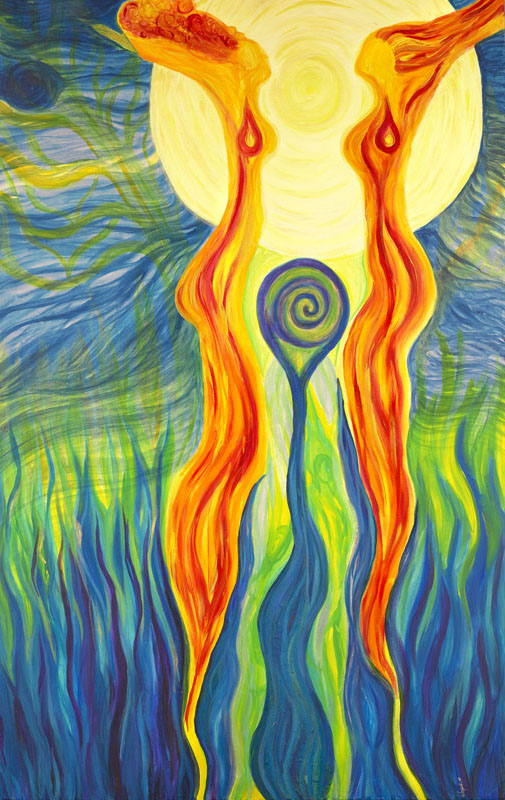 Twin Flames is a painting in the Phoenix Rising series, painted 2007-2008.
This painting was inspired by my intuition, It called out to me in a high frequency "hummm" at 11 pm as I walked past my art room.  Really, I second guessed the calling. Right now, start the largest canvas I have ever painted?  I felt the pressure in my chest like something wanted to fly out of me!!! Yes now is the time!!
I prepped my painting area and unwrapped the fresh white canvas.  In the unknowing of what would appear, I began with gold, the color that matched the feeling bursting inside of me. I took my first brush strokes, trusting that the feeling of rightness would lead me.
Staying in the nothingness where I am able to be when in the divine flow, the journey began. Stroke by stroke of the paint brush – dipping now in into colors of flames, now onto the canvas – my human form watched as two women began to appear.
I painted through the night until the twin flames had fully flown into form.  What an amazing release of energy!! I had painted my human essence and my soul essence.
Days later as I continued the painting another female form appeared between the flames between the twin flames, and then a male.  I feel they the representation of the feminine and the masculine within me. In the middle of the masculine and feminine is the infinite circle. The connection of these five forms makes wholeness!! The balance of the earth, connected with the sky, connected with the water, connected with the fire and we are all one in the infinite circle of life. The ultimate  goal  is to become whole within ourselves – that allows us to truly live a full life!!!
The painting is acrylic on canvas, 30 inches by 48 inches.
The original painting is for sale: $6000.