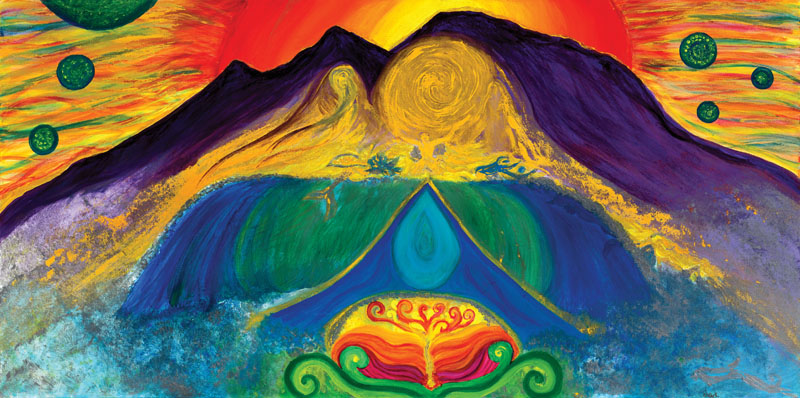 Shasta Water  began with my deep love of Shasta in far northern California.  As I  painted, my love grew for this amazing place on the planet, where fresh water bubbles out of the Mountian, pure and clean, the earth's nectar.  The water's coolness burns the throat as it flows down. Every sip is heavenly.
Shasta is a place where the mountain glows purple in the noonday sun, in the shadow of dusk and in the rising sun.  Wildflowers all colors of the rainbow and green grasses of all sizes sprout before my eyes.  The paint brush flows. Spirit guides began to appear beneath each brush stroke. Mother Mary appeared on the right.  As I continued, the stroke of silver paint on the left side became the beard of Merlin.  This is my first painting in which spirit guides showed themselves… a reminder that they are always here for us with love and light, even when we don't see them.
The painting is acrylic on canvas 18″ by 36″, painted in 2006.
The original painting is for sale $1700.
Archival limited edition prints are available all sizes.
Please email me for more information.