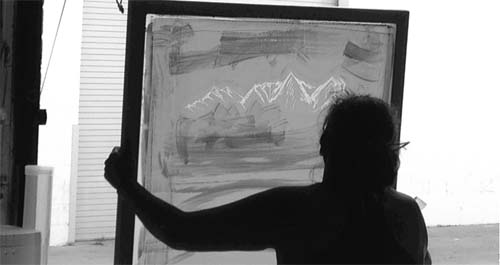 Voormi, a remarkable new apparel company based in Pagosa Springs, makes high quality performance clothing for the outdoor industry. Rocky Mountain raised sheep provide the fine merino wool for many of Voormi's amazing products, and their 100% cotton Tees are as soft as silk.
Along with their commitment to the highest quality, Made in USA manufacturing, Voormi also works with Colorado artists to create a collection of Tees and Hoodies.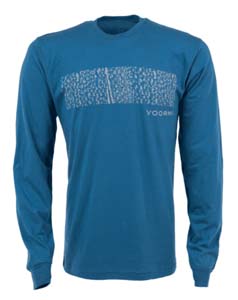 From the Voormi website: "Along the way, we've been lucky enough to meet some of the most amazing artisans, fabricators, and simply creative people that Southwest Colorado has to offer.  The Untethered.Collaborations project is a effort we're launching to celebrate these artists and everything they are up to.  Our first collaboration features two friends of VOORMI;  Athletes and artists inspired by hard to reach places, and the joy that comes from getting there… "
I am honored to be one of these fortunate artists, and pleased to share with you the Voormi apparel using my designs!
Click the names or images of the items on this page to view these products at the Voormi website – to see details of my designs – and to buy whatever you might want for yourself or loved ones right from the Voormi website.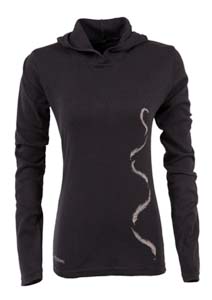 Feathered, pictured at the left, is a Women's Hoodie Tee in black with my curly feather design up the side.
Fresh features the mountain ridge design shown the production photo above, and is available in a men's short sleeve tee, as well as a super warm winter hoodie.
Lost, pictured in turquoise above, is an aspen tree trunk design, available in men's short sleeve & long sleeve tees, as well as a mid-weight hoodie.  I love the delicious colors!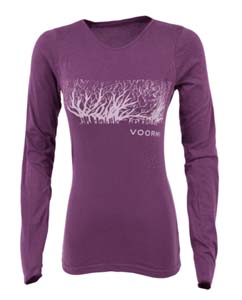 October, pictured at the right, features tree branches on women's short sleeve & long sleeve tees, as well as a lightweight hoodie.
Spindrift below is a delicate design on a women's short sleeve tee.
.